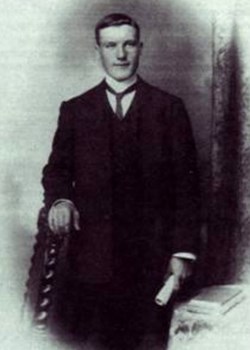 An endowment fund has been established within the Victoria Foundation by Mr. John Horne to memorialize John MacGregor (1889-1952), VC, MC and Bar, DCM, Canada's most decorated soldier for valour. From earnings on this fund, an annual award to be known as the John MacGregor Memorial Award will be made to a Ground Search and Rescue (GSAR) Group in B.C. The Award recognizes the dedication, expertise and courage of all GSAR Groups and their members as unpaid professionals, while highlighting the actions of one Group each year as an example of "going above and beyond".
John MacGregor left his native Scotland for Canada on his 20th birthday in 1909. Using his skills as a carpenter and stone mason, he worked his way from Montreal to the west coast. Attracted by the remoteness of the north-west coast, he travelled from Vancouver to Prince Rupert in 1912, and shortly thereafter began trapping in the Nass Valley. When informed by a visiting Ranger in late 1914 that Britain was at war, he quickly packed up and made his way to Vancouver where he enlisted as Private John MacGregor in the 11th Canadian Mounted Rifles. From September 1915 to November 1918 in the horrific trenches of the Western Front he distinguished himself as a fearless soldier and gallant leader of men, as documented at The Western Front Association. He was also a selfless civilian when, in 1921, captaining his fishing boat in the Hecate Strait he made quick decisions that saved the life of a badly injured crew member; and again in 1923 when he alone boarded a flaming vessel in Prince Rupert, cut its lines to save a commercially valuable wharf, axed a hole to sink the vessel and then swam to safety but not before suffering severe burns requiring lengthy hospitalization.
Mr. Horne is pleased to memorialize John MacGregor with an award in his name to recognize the selfless and valorous actions of volunteer GSAR groups in British Columbia. The Board and Executive of the B.C. Search and Rescue Association sincerely thank him for creating this Award and for his support of the GSAR volunteers who respond when needed "so others may live". Further details of the Award will be available from BCSARA when the nomination process and other details are formalized.