Date: July 30 – August 2, 2021
Contact: Sandra Riches, Executive Director, BC AdventureSmart 604-671-2241 execdirector@adventuresmartbc.ca
Media inquires welcome.
British Columbia's 'Day' is often celebrated outdoors by hiking, mountain biking, paddling and climbing.
Hikers, bikers, paddlers and climbers rarely head out for their adventure with the expectation that something will go wrong, and most times everything will go right. However, that ONE TIME that the unexpected happens . . . your investment in trip planning can mean the difference between a successful outcome and becoming a statistic.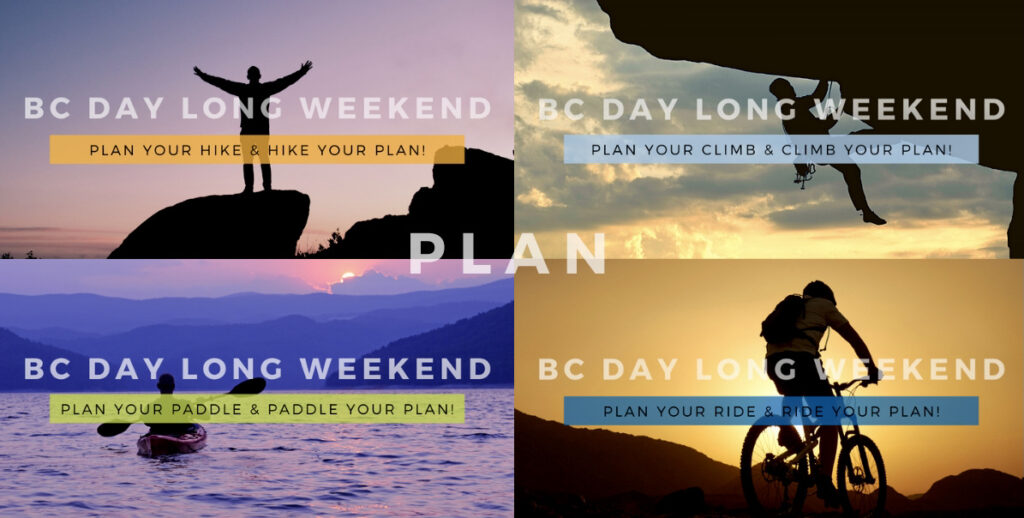 1,900+ search and rescue incidents annually in BC keep our 3,000 SAR volunteers incredibly busy. Help them help you.
PLAN your hike and hike your plan.
PLAN your ride and ride your plan.
PLAN your paddle and paddle your plan.
PLAN your climb and climb your plan
Search and rescue volunteers plan. You need to plan as well.
SAR: Planning a search and rescue efforts starts with assessing the subject's destination, probably route, and likely location.
YOU: Plan your destination, route, gear and return time with your group. Leave all the details with a trusted emergency contact.
SAR: The best chance of rescue exists close to the place where you initially become LOST.
YOU: If lost, in trouble or hurt in the outdoors; S.T.O.P. (stop, think, observe, plan…then act).
SAR: 1 km from your planned route, the SAR area is 3.1 square km / at 3 km from your route, it's 28 square km, at 10 km it's 314 square km!
YOU: In case of an emergency; STOP (stop moving, assess group/emergency), Think (how will you contact SAR), Observe (hazards around, make shelter), Plan (eat, hydrate, keep warm, signal for help) . . . then act!
All adventures start with a plan. Start with the AdventureSmart TRIP PLAN APP.
---
Industry Support
"While BC Day is a time to celebrate in BC, over 3,000 volunteers (2,500 GSAR trained, 500 members in training and over 100 resource members) are prepared to help those in need. 2020 was a record year for these volunteers who responded to over 1,950 searches and rescues and July and August are traditionally the busiest months. BC's current wildfire situation makes it even more challenging for these dedicated volunteers as they assist their communities in evacuation alerts and notices. Please listen to the advice of BC AdventureSmart so that your experience can be an enjoyable one. We hope you never have to meet our volunteers."

BC Search and Rescue Association
"Whether you're a seasoned backcountry explorer or if it's your first time, it's vitally important to be prepared for your adventure," said Jennifer Rice, Parliamentary Secretary for Emergency Preparedness. "Research your route, learn about the terrain, check the forecast and current conditions, bring extra layers of cloths and food in case you get stranded, leave your trip plan behind in case you get lost, and always choose a route that best fits your abilities. By adventuring smart, you can avoid injury and safely experience the vast beauty of our province!"

Jennifer Rice, Parliamentary Secretary for Emergency Preparedness
"BC Day is a great opportunity to celebrate our Province by heading into the North Shore mountains for a hike or camping trip. We want to remind the public: fire season means that forest fire risks are extremely high. Please do not smoke, do not light any fires and do your part to prevent forest fires. As you enjoy this long weekend, we want to remind you not to underestimate the risks of being outdoors in the North Shore's backcountry. Follow the good advice, guidance, and resources provided by BC AdventureSmart and others, and make sure you stay safe."

Sgt. Peter DeVries, Strategic Advisory NCO and Media Relations Officer, North Vancouver
---
Helpful resources:
BC AdventureSmart Events Calendar
Our Team at BC AdventureSmart wishes everyone an adventurous and safe BC Day long weekend!